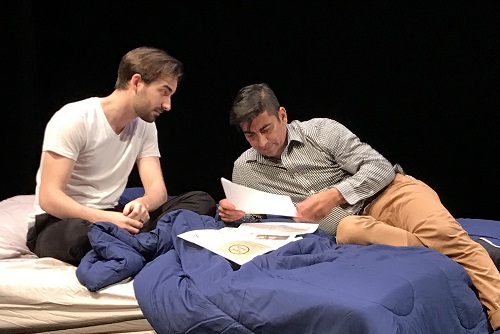 Broadway Bound Theatre Festival's Adam and Brian is stunning, a prescient choice for theatregoers looking for complex, intelligent drama.  At the play's opening we find that Adam and Brian, a young gay couple, have endured a vicious and unprovoked gay bashing. As their relationship progresses after the attack, this tragic event is juxtaposed with the possibility of their marriage at a Hawaiian destination wedding. That evocative metaphor, an island paradise set within and against the mean streets of New York City, haunts this lovely piece of theatre; tropical thunderclouds hover over the couple's broken household. As we are led further into the wake of the attack, Craig Donnelly's play makes us question ourselves again and again; the Broadway Bound Theatre Festival, at the beginning of its journey this year (under the assured hand of Lenore M. Skomal), has offered the members of the LGBTQ community a chance to examine the beginnings of their newly won marital rights.
Pauline Kael once wrote of her early exposure as a child to silent films, "We were in at the beginning, when something new was added to human experience," and that's true for the LGBTQ community right now. Donnelly is insisting that we examine something new within our experience as members of the LGBTQ community: marriage. And he intentionally raises a few important questions: Can love survive if we allow ourselves to grow? Is love malleable enough to save us from living a lie? Will we sacrifice what we know to be right, for the safety and comfort of matrimony? Is LGBTQ marriage a good thing, a bad thing or somewhere in between?  Is a "destination wedding" really a good idea? Or, is it running away from problems both in the relationship itself and from the world at large?
Adam, played with earnest devotion by the very talented and likeable Sal England, has turned inward after the tragedy.  His "life unexamined" has a certain bliss. Under the surface however, we see a devoted son fearful of claiming his right to a full acceptance of himself as a gay man.  The slow dissolution of his arguments, which at first seem self-sacrificing and heartrending, begin eventually to ring quite hollow, delving into martyrdom.   Mr. England's performance is dignified and nuanced; he saves his emotional outbursts for a painful climax during the play that I won't give away.
Daniel Yaiullo as Brian, meanwhile, gives the kind of performance you hope to see when you go to the theatre.  He's compelling, vulnerable, commanding, all in a single turn of a phrase. His solitary moments onstage, which gently identify his therapy sessions in the wake of the attack, are superbly acted. Through his monologues, we understand he's beginning to examine his life after the turbulence of the attack.  His admission that he is having debilitating anxiety attacks to his partner are compounded by the fact that he's telling a truth his lover does not wish to share. His breathtaking breakdown near the end of the play is brilliantly done, crushing in its finality. It's surprisingly mature work from both actor and writer.
Donnelly is a young writer with an insightful mind and cultivated ear for great dialogue, and the journey we take with his characters during this play is painful, enlightening and right on point. It's a plausible reality we see mapped out for us here, clearly motivated by a desire to make certain the LGBTQ community continues to move forward with awareness and clarity and a forthright sense of purpose as we pair ourselves. His writing has given us exactly what we hope for from a playwright: he has given us his deepest most private queries. The pace, the form, the ideas expressed here are new because they are looking at a changing world within which the LGBTQ community is grappling both publicly and privately. Paul Edwards' direction has done a lovely job keeping us right in the fray between the two young men. He places simple props and costume changes throughout the play that allow us a private, personal glimpse of a frayed and tattered young couple, a series of vignettes that eventually lead us through this compelling story. It is Edwards' restraint, the simplicity both in the staging and actor's movements, that generates my admiration for this skillful director's work.
I've just mentioned that certain moments of the play were surprisingly mature, written with complex examinations of every issue discussed.  Indeed, I felt that way about the entire enterprise. The theatrical experience itself is well curated by Lenore M. Skomal, Broadway Bound Theatre Festival's Artistic Director. From the way I was escorted to the theatre, the comfort of the theatre itself, the lighting, costumes and set and of course, the writing, casting and direction. Overall, I felt there was a sense of humility and reserve and a lovely maturity.  Through it all, I felt a well-appointed sense of dignity. It was easy to "sit back and relax" and enjoy the proceedings. I look forward to seeing and reviewing other work from this Ffestival's offerings this season.