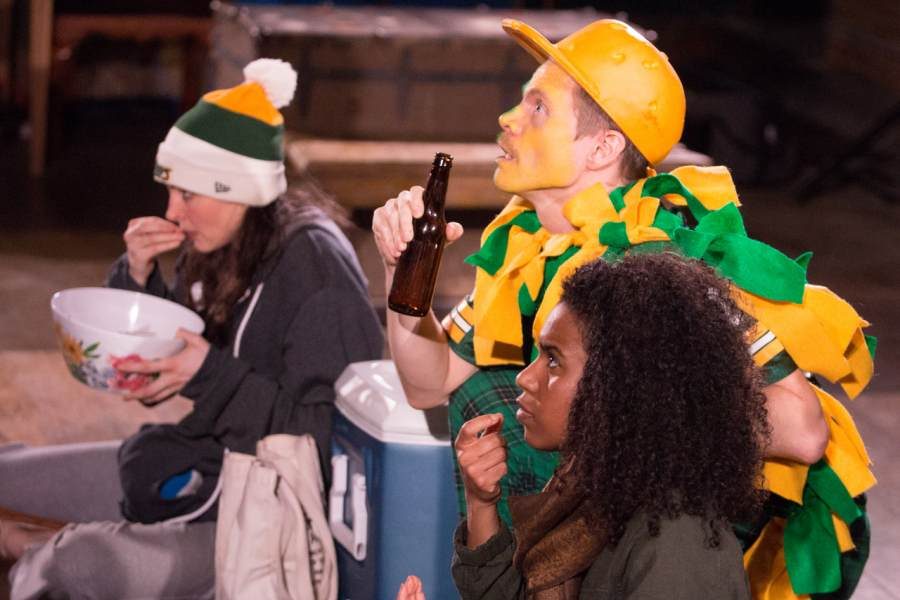 There's been some well-intentioned talk in the last couple of years about how artists might help bridge the chasm between red states and blue, or—maybe even trickier—the gap between red and blue factions within a single community. So far, the talk seems not to have led to much action. But Breitwisch Farm, an ambitious Off-Off Broadway play by Jeremy J. Kamps (staged by Esperance Theater Company at Town Stages), may be onto something
Kamps' strategy? Rely on a little Russian influence. The play—set in rural Wisconsin in 2010-2011—is based loosely on The Cherry Orchard (1903), the last great play of Anton Chekhov.
Kamps is certainly not slavish in his emulation. To begin with, the characters in his play are hardly aristocrats. A major character of Chekhov's—the matriarch Madame Ranevskaya—has an equivalent of sorts in Kamps' scenario, but she is entirely an offstage character, a woman reaching the end of her days. An outspoken progressive, Constance ("Connie") Breitwisch seems to have earned a measure of respect in her community, though some neighbors have called her "Commie" behind her back. But she has apparently mismanaged the farm's finances, and a foreclosure process looms—though money could be made by selling the property to frackers.
Other residents of the farm are Constance's daughter, Leena (Katie Hartke); Leena's daughter Bree (Katie Wieland): and a young African-American woman named Zai (Danaya Esperanza), who has found a mother figure in Constance and a passion in composting. Then there's tireless Dolores (Maria Peyramaure) an undocumented immigrant from Mexico, who works for Constance and has a bright and athletic high-school-aged son, Oscar (Alejandro Rodriguez).
As the play begins, Breitwisch Farm's wobbly status quo is about to topple when Constance's son, Web (Joe Tapper), an avid political activist, returns home after being booted out of Rwanda. Soon he's convincing young Oscar to stand up against the bigotry of his football coach, and also embarking on a tentative romance with Zai, who has plenty of evidence that he's not a guy who'd find contentment raising squash, asparagus, or children.
What makes the Chekhovian element so useful to Kamps is its tendency not to polarize good and evil or weakness and strength. Every character is to some degree self-absorbed, self-delusional, and/or just plain selfish. Yet each can also be likable or, at any rate, sympathetic. We know that the play's major right-wing character (the counterpart of Chekhov's Lopakhin), a high-school principal named Jimmy Feucht (Charlie Murphy), has never quite grown out of his childhood role as crude bully. But we also see his decent, gentle side. And while Web is a passionate crusader for social justice, he can also seem unfeeling—even harsh— toward those around him.
Director Ryan Quinn (also Esperance's Artistic Director) has mounted the play imaginatively, on a deep, narrow, largely bare stage surrounded by audience on three sides. The cast is young and energetic. Not all the players are the ideal age for their characters, but they work well together and are, by and large, a talented lot.
Wieland, Esperanza, and Rodriguez are standouts, as is Will Manning, who creates a finely etched portrait of Leena's ex-husband Randy: a recovering alcoholic with a childlike spirit that can be endearing at one moment and annoying the next. Manning is a pleasure to watch, especially in a Super Bowl Sunday sequence that—on the night I saw the show—left the whole audience stricken with Green Bay Packers fever.