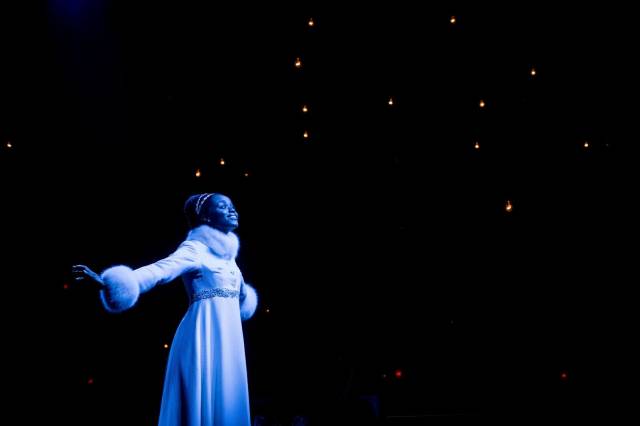 There's a time and a place for Serious Theater, ponderous and esoteric… and then there's time for the kind of ecstatic, transportive experience that Natasha, Pierre and the Great Comet of 1812 serves up on a gilded platter with a vodka chaser.
Dave Malloy's award-winning "electro-pop opera," which started as a scrappy off-Broadway production, has received an A-list, big-budget remounting under the lights of Broadway just in time for the holiday season to sweep the city. After great initial success at Ars Nova in 2012, Malloy's adaptation of Volume Five of Leo Tolstoy's masterpiece War & Peace quickly moved to Kazino, in the Meatpacking District, and then Times Square, where it took cues from popular productions like Sleep No More to create a kind of cabaret cum immersive theatre-lite.
There was some concern that the move to a traditional theater would diminish the experience, but the show remains a ravishing, 360 degree affair, with a dose a grandeur that only Broadway can provide (though, to be fair, I did not see the much lauded earlier incarnations). The Imperial Theatre is a perfect venue for the spectacle, draped in rich red velvet, lit by sparkling chandeliers, the walls adorned with gaudy oil paintings.
Thanks, in part, to ample onstage seating and narrow walkways that snake into the orchestra, the chorus -- by and large multi-instrumentalists dressed in gypsy-punk wardrobe -- merges with and appears to emerge from the audience itself. At the start of the show they take on the role of twisted fairies, handing out pierogis and shots of vodka. Tasked with guiding us on the journey, they take us through a Prologue that introduces the cast of characters ("this is all in your program," they remind us in song—and it is), acknowledging the difficulty of keeping Russian dynasties straight in your head, especially when they all go by many different names (thanks, Tolstoy). The Sesame Street-like word game does wonders to help with this, assigning a basic characteristic to each player and repeating it until it's drilled into the audience.
There's Natasha ("Natasha is young"), played by the charming Denée Benton, who arrives in Moscow with her cousin, Sonya ("Sonya is good"), to stay with her godmother, Marya ("Marya is old school"), played by Grace McLean, to pass the time while she awaits her fiancé, Andrey, off at war (Andrey simply "isn't here"). But Moscow is full of delights, and on her first night at the opera, she meets Anatole (Anatole is hot), played with swagger and farce by Lucas Steele, a roguish gentleman who vows to seduce Natasha even though he has a wife in Poland. And then there's Pierre, "warm-hearted Russian of the old-school," whom we meet in the throes of a mid-life existential crisis. He doesn't love his philandering wife, also the sister of Anatole, Hélène ("Hélène, is a slut"), played with catlike echos of Eartha Kitt by Amber Grey. So he spends all of his time devoted to alcohol and books, searching for meaning in the world while his best friend, Andrey, fights for Russia.
If I were to find fault in the production -- one capable of causing the most staid among us to forget themselves and clap and shout with wild abandon -- it would be due to my own feminist biases, a quarrel I should likely take up with Tolstoy and all of Russian society in the 19th century. Natasha's story arc is somewhat predictable, the virgin/whore complex alive and well, and, given her youth and naïveté, if you dwell too hard, the direction the plot is destined to go is a bit cringeworthy.
Yet there's enough avant antics and gender bending in the chorus to counter to old-fashioned elements, and the various elements of stagecraft weave ever more densely into an orgiastic, all-consuming tapestry. Malloy pulls together a pastiche of literature (using direct quotation from a translation of Tolstoy's text) with the warm melodies of pop, near-discordant vamp of klezmer, the ribaldry of folk, even the anachronistic heartbeat of electronica.
His vision is bolstered by Rachel Chavkin's frenetic direction and talented cast, as well as, notably, Bradley King's astounding lighting. From the pulse of strobes, to the blinding wash of massive bulbs, to the breathless flicker of lamplight, it is as active in the play as a character, and was positively — dare I say — incandescent.
And, of course, there is Chavkin and Malloy's cast, of which, to encourage you to go see if for yourself, I'll mention only two standouts.
Mention number one goes to Scott Stangland, Josh Groban's understudy for Pierre. Groban took ill only five performances into the run, and I arrived at the Imperial Theater to find panic stricken ticket holders yelling at each other about the news. A bouncer checking bags pulled me aside and said, with a thick New Yawk accent, "60 years ago, a nobody stepped out of the chorus of The Pajama Game and turned out to be Shirley MacLaine!"
While, alas, there were soaring moments that seemed tailormade for Groban's voice, Stangland, who played Pierre at Boston's American Repertory Theatre from December 2015 to January 2016, and is said to have inspired Groban to seek out the role, puts his whole body into the performance, quaking as he hits the high, sustained notes of anguish required of the role. He adds a unpretentious humility and quiet sense of defeat that one can imagine might be less apparent in the squeaky clean superstar.
But the breakout star of the show might well be Brittain Ashford in the role of Sonya the good, Natasha's cousin and ride or die friend. "Sonya Alone," Ashford's solo in the second half, is the song I found myself returning to, and I would go so far as to say that watching her perform it in her arresting, Joni Mitchell timbre that pairs airiness with earthiness, was a musical highlight of my life to date.
The sights and sounds of Natasha, Pierre and the Great Comet of 1812 have been swirling around in my mind since I saw the production, and I've sought the words to describe it -- mesmerizing, splendid, heady -- but all seem insufficient to capture the fullness of the show. Don your finest fur and head to the theater for one of the finest productions of the year. And be prepared to raise a glass. Nostrovia!